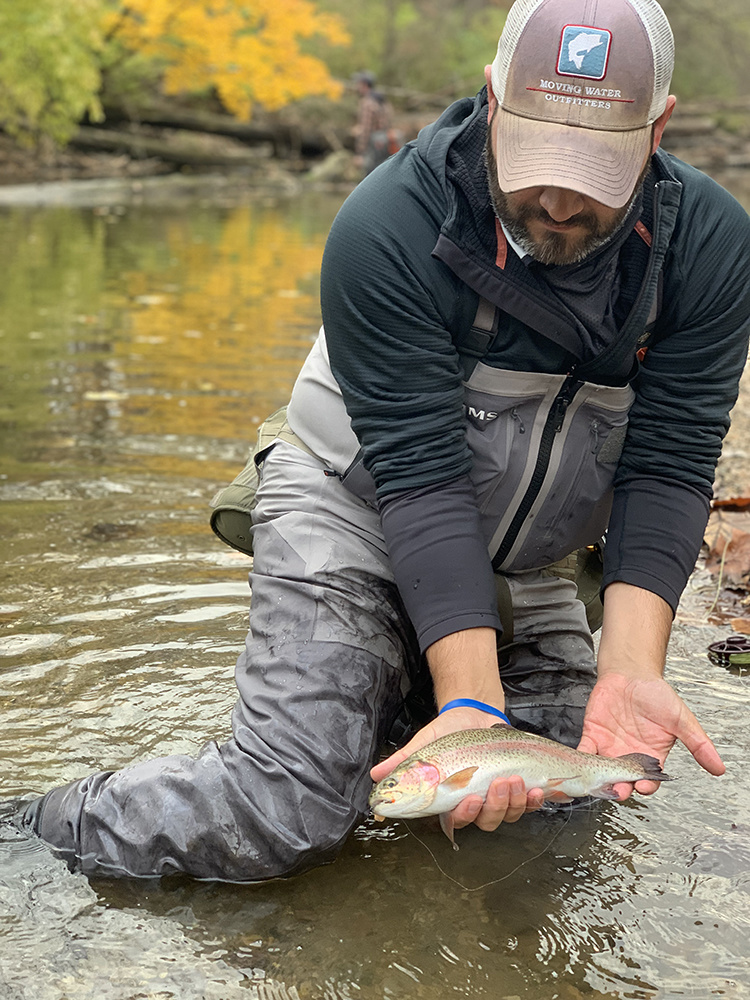 We love having trout back in Eagle Creek. The stocking creates a great fishery throughout the winter and into next spring. While fishing dry flies would be ideal, we do not have well established hatches on the creek. We get a sporadic hatch of small black Stoneflies during the winter, but these tend to be very weather dependent and hard to time effectively. The best methods for chasing trout are streamer fishing and nymphing.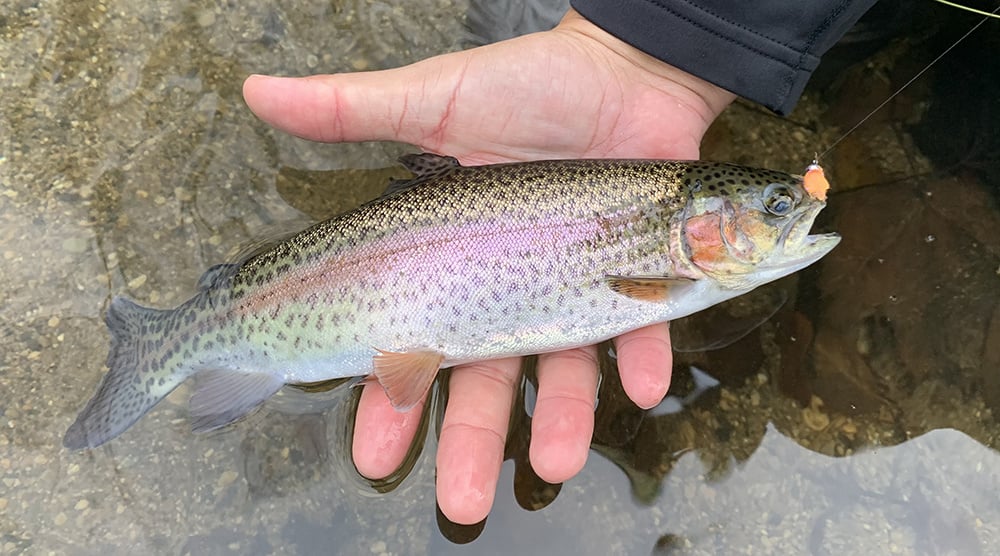 Over the past three years, we have found nymphing to be the most productive way of fishing much of the winter. The creek is set up extremely well for this method as nymph rigs can be fished in the slightly slower and deeper water (3 to 4 feet deep).
Our typical rig is a 9ft. or 9ft. 6in. rod that is a 3, 4, or 5wt. A good all-around floating line, such as the RIO GRAND and Scientific Anglers MPX, works great for nymphing. They are easy to roll cast and will help turn over an indicator rig. From the fly line, we use a 9' leader that is 4x or 5x.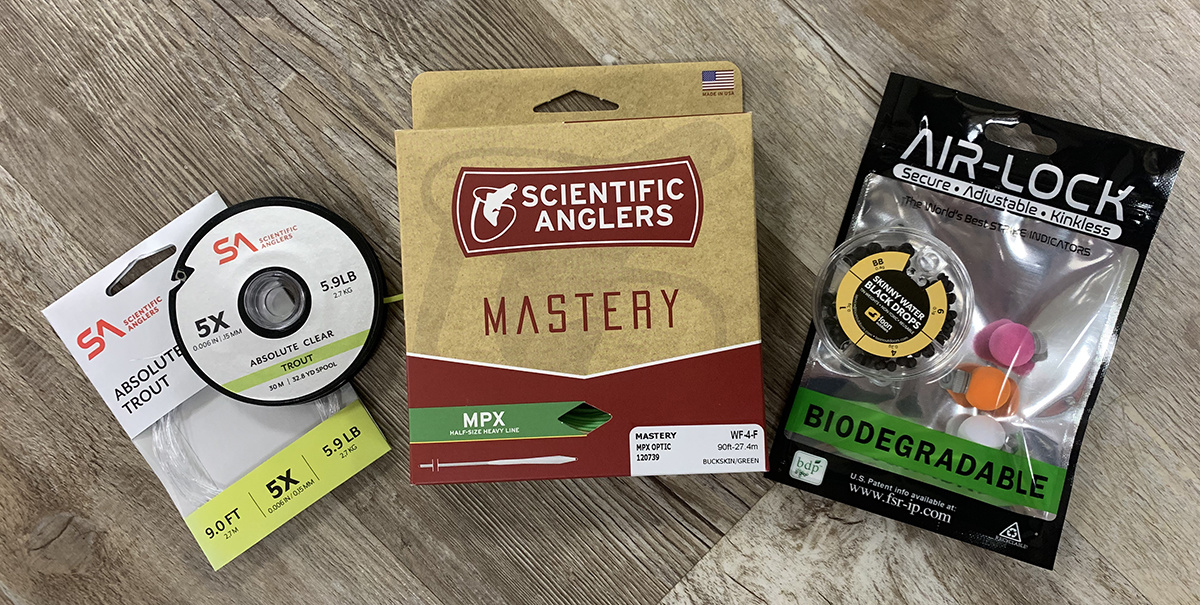 To suspend the flies, we like to use Air-Lock Strike Indicators. These are very easy to adjust to fit the water depth. Place the indicator on the leader 1.5 times the water depth. For example, if fishing 3ft of water, the indicator would be placed 4.5ft above the fly. As we move down the leader, we will add some small split shot to help keep the fly down in the current. About 18 inches below our split shot, we tie our fly. 
On Eagle Creek, it is legal to fish two flies at once. The second fly is added below the first fly with fluorocarbon tippet. Fluorocarbon sinks and basically disappears in the water, making it very effective for nymphing.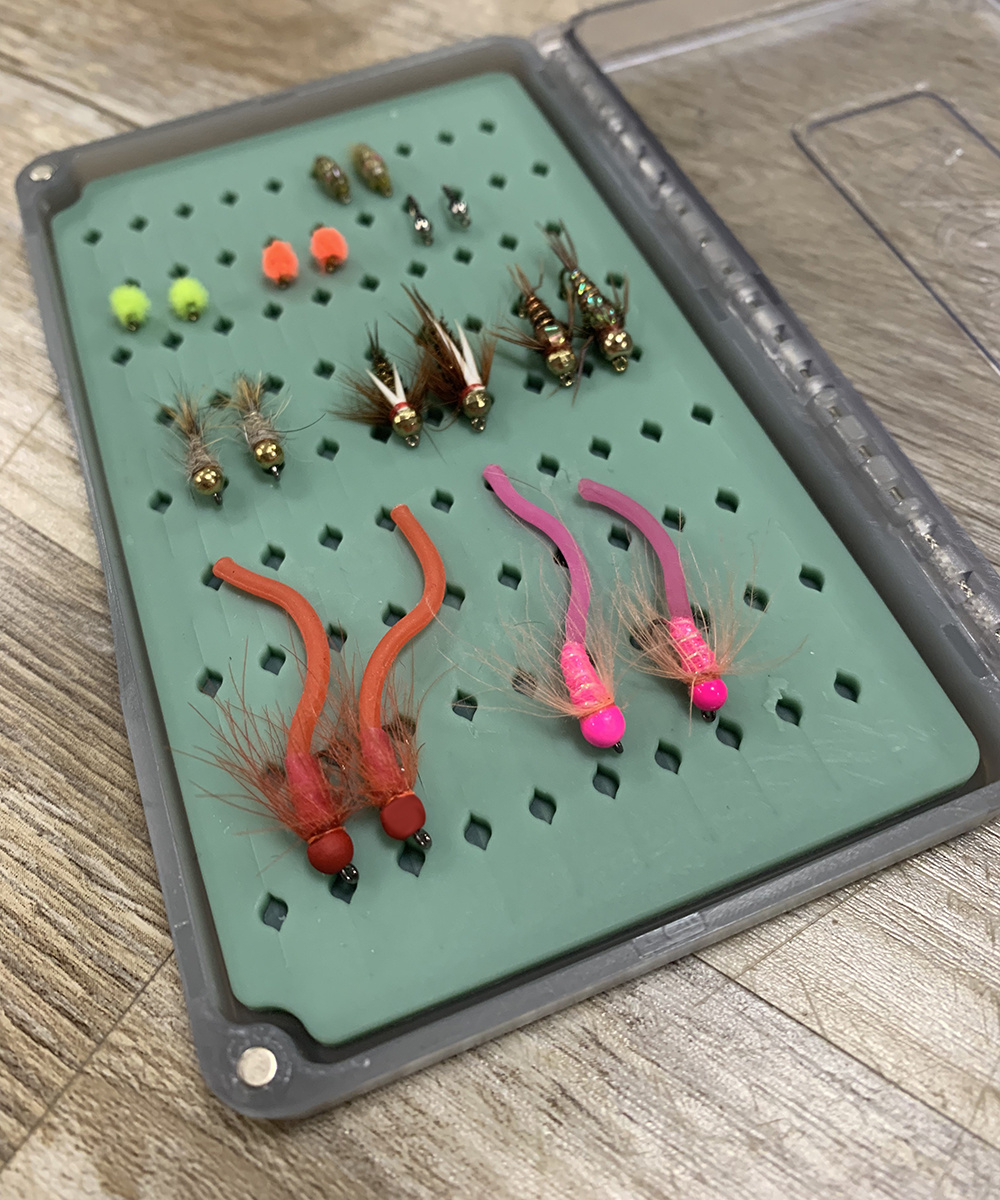 There are a lot of good flies for nymphing the creek. For a two-fly rig, use an attractor style fly like an egg pattern or San Juan worm/Squirmy Worm as the top fly. The bottom fly will be a more natural pattern like a Pheasant Tail. Some of our favorite nymphs are Pheasant Tails, Zebra Midges (great in low/clear water), Prince Nymphs, Hare's Ear, and scuds. Any of these nymphs can be used individually for a single fly set-up.
Streamer fishing is another great method on the creek, especially when you want to target the larger, more aggressive Rainbow Trout. We recommend 4, 5, or 6wt. 9ft rods for streamers. As with nymphing, we use floating lines, but often add a lighter sink tip or adding a sinking leader. This will help keep the fly down in the water column without constantly hanging up on the bottom.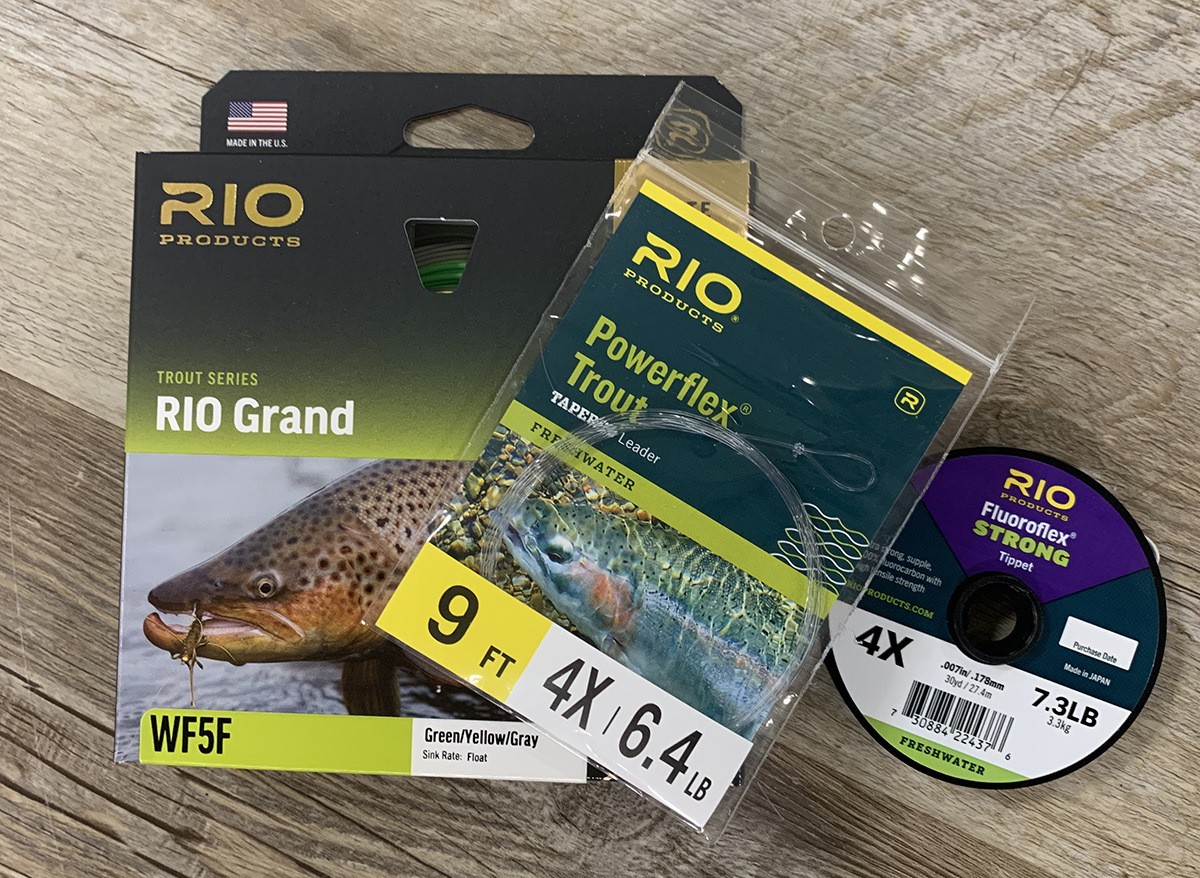 If you are going to fish a floating line, a 6 to 9ft. leader of 3x or 4x is a perfect choice. If fishing a sink-tip or sinking leader, use short section (3-4 ft) of 3x to 4x fluorocarbon.
For streamers, keep it simple on the creek. Our favorite streamers are Woolly Buggers, Slumpbusters, Zonkers, and small leeches. We prefer to tie on the flies using a loop knot to allow the fly increased movement in the water. The preferred areas to target fish with streamers are just below riffles, near drop offs, tail outs, and near structure like log jams. Make sure to vary your retrieve from short fast strips to long slow strips.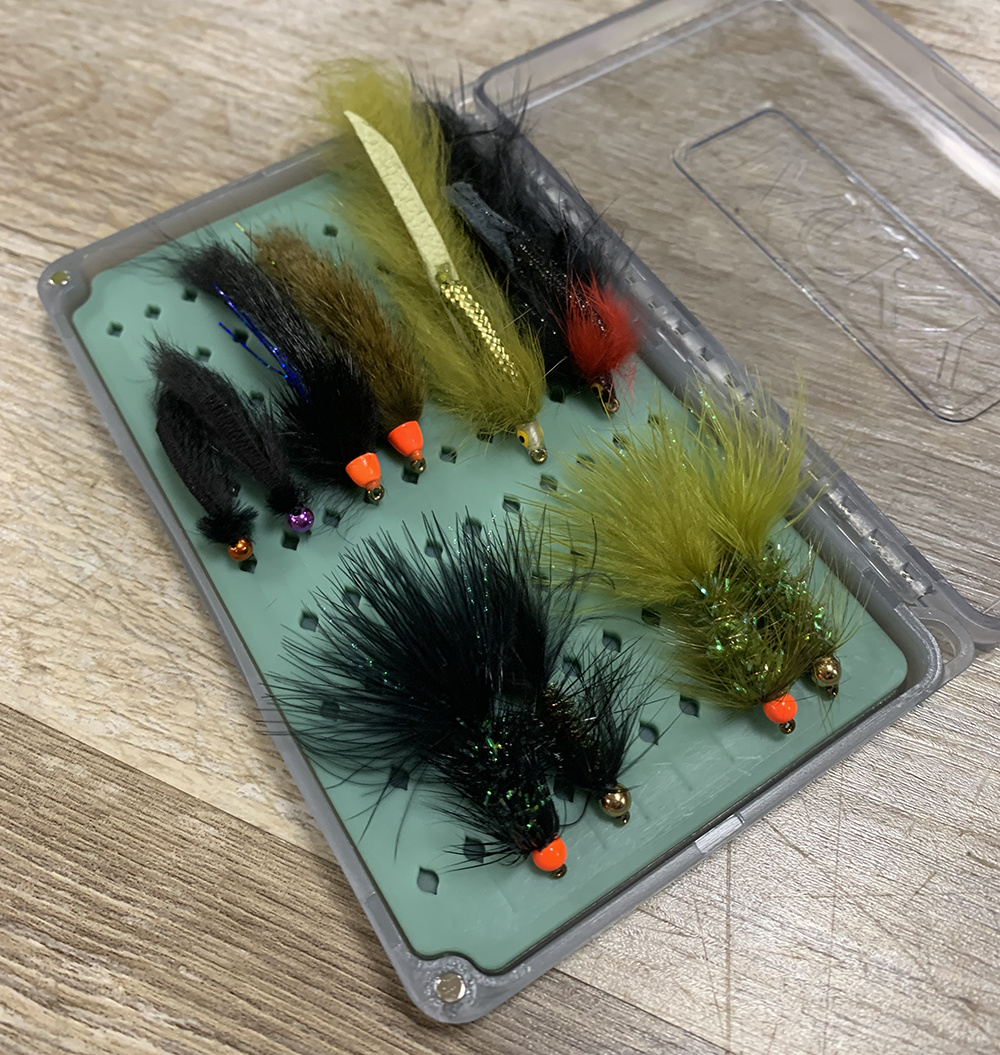 Stop in the shop on your way to the creek for help with flies and fishing set-up. Give us a call at the shop anytime for updated fishing conditions of the creek.
 
Also, please remember that fishing is designated to public areas of the creek. Click the link below to view access maps for the creek.
 
Eagle Creek Access Maps
Please practice catch and release through the last Saturday of April, following Indiana fishing regulations. This ensures that everyone can enjoy this resource.