Who is Moving Water Outfitters?
Meet Eric Corya. You might know him as Carp Stalker.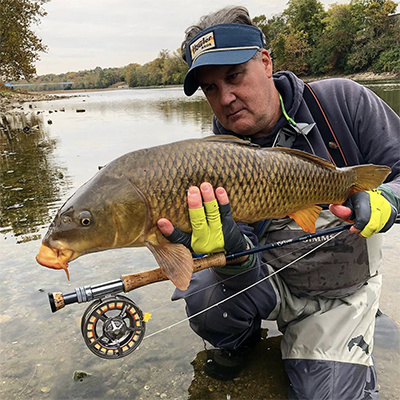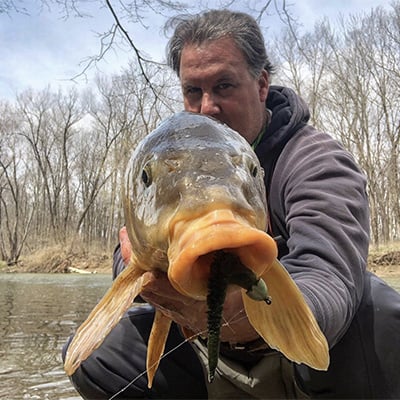 How long have you been fishing, and how did you get started?
My grandpa was the first person to take me fishing when I was 6 years old on his farm pond in Southern Indiana that was stocked with big catfish. When your first fish is a big catfish that really spoils you! I lived near Wildcat Creek near Dayton, Indiana from the age of 8 years old up until I was 18, and I would wet wade the creek for smallmouth bass on a regular basis throwing Mr. Twisters. That's where my smallmouth obsession started.
If you had the day off, where would you head to fish?
Locally I would probably fish Sugar Creek, but I would prefer fishing for Reds in Louisiana.
What is your perfect fishing day?
I recall a day when I was fishing with Mike Exl on Lake Michigan. It was early May, warm, sunny, light winds, crystal clear shallow water, and we were surrounded by a couple hundred 20 plus pound carp that were pre-spawn and post-spawn and they were eating everything we threw at them including clousers. We landed over 50 fish that were all 15 to 25 lbs and to be honest we lost count, simply amazing !
Favorite fishing outfit?
I like my Hardy Ultralite reel, with a 7 weight sage pulse rod and a Rio Outbound short line. To be honest, I don't need the top of the line rod, I really enjoy the mid-priced rods just as much.
Favorite fishing destination?
Louisiana for Bull Reds and Carp in the Canals.
Wading, kayak, or boat?
Wading
Favorite activity when you're not fishing?
Tying Flies
Favorite ice cream?
Soft serve Chocolate
Favorite book?
Carp are Gamefish by George Von Schrader
Anything interesting you think people would like to know about you?
The first fish I ever caught on fly was a carp back in 1997, the second fish I ever caught on fly was a bonefish in the Bahamas on a very cheap click and pawl reel, during a DIY fishing trip.